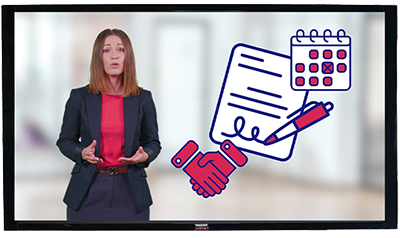 You want debt help, that's what we're here for.
We're NDH Financial, a personal insolvency specialist with our own in house Insolvency Practitioner.
For over 15 years, our Insolvency Practitioner has helped people to remove the shackles of debt by assisting with the preparation and supervision of Individual Voluntary Arrangements (IVA's)
Let us help you.
Speak in confidence to our debt consultants
SEE IF YOU QUALIFY FOR AN IVA TO WRITE OFF YOUR UNAFFORDABLE DEBT*
If you do qualify for an IVA, our team will work with you to prepare the necessary paperwork, and liaise with your creditors to seek their approval.
Debt Help: How To Get Support With Your Debt
If you find yourself in a position of debt, it's important to see what your options are to try and get it paid off as quickly and easily as you can. If you are in a somewhat stable position financially and think that you can clear your debt without any outside help, then this is definitely a good thing, and it's worth trying to get it paid off as soon as possible – just make sure you have enough income to be able to pay for household costs like food, energy bills and rent arrears/your mortgage, as if you don't, you may end up accruing more debt.
If you find yourself in debt and aren't able to pay it off, then the next step to take is to research your options – more information about some of the debt settlement services and debt management plans available can be found on our debt solutions page.
Once you've worked out which option is best for your situation, it's time to put a plan into place. The direction you choose to go in will depend on things such as your location (some options are only available in certain countries), the amount of debt you have, who your creditors are and how many creditors you have, whether your debt is secured or unsecured and how many individual debts you currently have. You can seek help from debt settlement companies or licensed insolvency practitioners such as NDH Financial, however there are also charities (e.g. National Debtline) available to help you to make your decision and point you in the right direction.
NDH Financial specialise in IVAs – whilst this option won't be suitable for everyone, it's well worth considering if you think you might be eligible. Our IVA Learning Hub is designed to give you all the information you need to make your decision, however we also offer a free no-obligation consultation service so you can speak to one of our trusted debt consultants, who can guide you through the process of taking out an IVA and guide you accordingly.
APPLY TO RECEIVE A NO OBLIGATION

CALL FROM A DEBT CONSULTANT
What to expect during your call:
Identify how much you owe
Identify how much you can afford to pay to your debts
See if you qualify for the scheme
Confirm how much debt you could write off
You'll receive a NO OBLIGATION consultation call from a representative of NDH Financial to see if you qualify for the scheme to write off your unaffordable debt*. There is no obligation to follow the solution identified, and you will not be required to make a payment unless it is approved.
The licensed insolvency practitioner here at NDH has over 15 years' experience in helping people manage and write off their debt. NDH Financial has helped thousands of people clear their unsecured debts in that time and we're hoping to help thousands more with our debt help.
We specialise in IVAs (Individual Voluntary Arrangements), although we understand that this option won't be suitable for everyone, so we can complete a detailed assessment of your financial situation to see if the IVA is an appropriate solution for dealing with your outstanding debts.
Our team of debt consultants are on hand to help you with your financial circumstances, so if you have any current debt problems and want to talk to someone about taking back control of your debts using an IVA, then you've come to the right place!
Whether you want to create a payment schedule with a fixed term, so you can see the light at the end of the tunnel, or you're worried you will not be able to afford your debts due to the costs of living, we're on hand to help!
The NDH Promise: Reasons to Use NDH Financial
The Insolvency Practitioner at NDH has worked in the personal insolvency sector for over 15 years, having helped thousands of customers to manage and repay their debts in the short period of time that we've been around. Debt can be a stressful thing to have, but by using a reliable company, you can be sure that you and your debts are in good hands, taking away a lot of the worry you may face in regards to paying your debts off to keep the debt collectors away.
We provide a no-obligation consultation call to all our potential customers, to help you identify appropriate solutions for managing your debts and whether an IVA is right for you, as we understand that all situations are different and must be tackled based on the individual and the debt they have accrued.
Our debt consultants specialise in assisting individuals with personal insolvency situations, so you can rest assured that we will work with you to help you find an appropriate debt solution.
We believe that everyone has the right to feel respected and supported in every aspect of their lives, including their debt and credit situation, and this is something that translates to the debt help services that NDH Financial provide.
We are committed to supporting our customers with their debt issues by giving them the tools and information needed to manage their situation, in order to free themselves from the chains of debt.
Confidentiality obligations are extremely important in any business, but particularly within the world of finance and debt - we promise to involve confidentiality within every step of the journey towards making you debt-free.
Discretion is a big part of this, as all information about you and your debt will be kept locked away from prying eyes. We also aim to work around you and your schedule, understanding that everyone is different and has their own way of working and timetable, which we aim to contact you around.
Human beings are individuals and should be treated with respect and as valued members of society, instead of being looked down upon for any outstanding balances they may have.
We like to build a relationship and a rapport with our customers, treating you as unique individuals and tailoring our debt solutions to suit your own personal and private needs. We're committed to improving your financial situation as much as we can.
At NDH Financial, we understand that overwhelming debt can be a delicate situation that can happen to anyone, no matter how financially savvy they are.
We promise to go above and beyond in every situation and will do as much as we can to help you manage your debt in a timely and empathetic way, to help put your mind at ease.
Nobody should have to struggle with their debt alone - we are here to help as much as we can.
IVA Debt Help You Can Trust
NDH Financial is a debt help organisation, specialising in IVAs. You can include a variety of different unsecured debts in your IVA, allowing you to consolidate them together, making the process of clearing your debts easier by far. One thing to note is that an IVA can only be used for unsecured debts and you would be required to keep making regular payments to any secured debts you have alongside your IVA. However if the item the secured debt is linked to is repossessed, then the remaining balance can be included in your IVA. If you have any secured debt, you may be worth looking into other debt solutions instead. Also, there are certain types of unsecured debts that cannot be included, such as court fines and child maintenance arrears.
IVAs are generally more suitable if you have more than one debt, however you can include any number of debts within one, so long as it is approved by 75% of your creditors. IVAs allow for debt consolidation, with some of the debt you can consolidate into an IVA including (but not limited to):
Overdrafts

Personal loans

Utility bills (e.g. water, gas & electricity)

Debts owed to family and friends
HMRC debt

Income tax & national insurance arrears

Tax credit & benefit overpayments

Solicitor's costs

Vet's bills/private health insurance bills
As previously stated, an IVA cannot be used for secured debts, unless the item it refers to has been repossessed, allowing the remaining balance to be included in your IVA. There are also several unsecured debts that cannot be included in an IVA, so it's important to make sure that you have enough money left over to pay other debts as well as the debt included in your IVA - other debt management options may be more suitable if you have more of these debts than the ones mentioned above.
Examples of debts that we can't include in an IVA include (but are not limited to):
Student loans

TV licence arrears

Maintenance arrears agreed on by a court

Child support arrears
Social fund arrears

Magistrates' court fines

Mortgages & secured loans

Hire purchase agreements
If you have any of these debts, you will need to work out a separate debt payment plan in order to clear them. If you're unsure about whether your debts will be eligible for an IVA, contact us and we'll be able to help!
An IVA is individual to each person, so anybody else named on joint debts will not be protected, however if you and your partner both have debt that needs clearing, you could both look at taking out an IVA scheme individually - both schemes can be connected in what is termed an 'interlocking IVA'.
Contact NDH Financial to get more information on debt solutions and debt help options that are available to you, and to find out if an IVA is right for your current needs. Apply today to receive a no-obligation consultation call from one of our highly trained debt consultants to see if your unsecured debts qualify you for an IVA, alongside an initial assessment of your individual circumstances.
HOW TO APPLY FOR AN IVA IN 3 SIMPLE STEPS
The process of getting an IVA couldn't be more straightforward.
Step 1. Contact Us Straight Away For A Free IVA Consultation
This session is a simple conversation to see if an IVA is right for you based on your circumstances and the legal requirements of the IVA.
Step 2. Let Us Take
Care of the Rest
If you qualify for the IVA, our IVA consultants will go through the whole IVA process with you. You'll need to supply us with details of your financial situation, to verify the information you have provided.  There will be a further call with one of our Drafting Officers, who will work with you to prepare the necessary paperwork, which will be sent to you for your approval.  Once you are happy to proceed and have returned the paperwork, the Insolvency Practitioner will communicate with your creditors, and seek their approval.
Step 3. Enjoy One Lower Monthly Repayment
If successful and approved by the creditors, your IVA will then be approved and can start to repay what you owe. Paving the way for you to be debt-free in a few years.
faq
We have a specific page set up to answer any queries you might have about the advantages and disadvantages of an IVA, which is something you ought to read through before deciding to make an application - some of the advantages and disadvantages are laid out below, but you can also head to our pros and cons page for more detailed information.
Consolidate your debts together - this is one of the main reasons for taking out an IVA. With an IVA, you can consolidate your unsecured debts together into one easy to manage package, making for a much more streamlined approach. This can help take the worry away from having to pay each debt off individually, making an IVA less time consuming to manage.
Your creditors can't keep chasing you - with an IVA, your creditors are not allowed to keep chasing you for your debts, which makes them a lot more manageable. They also can't take further legal or recovery action against you.
You may not have to pay all the money back - this will largely depend on the amount of debt you have, however with an IVA, you only keep paying until the IVA term has ended, so if you have a lot of debt, the chances are you won't have to pay it all back.
Interest rates are frozen - interest rates and extra fees are frozen for the duration of your IVA, so you won't have to worry about paying any additional charges.
It's important to know whether you qualify for an IVA with NDH Financial before applying for one, as the application process can be quite lengthy, although we're here to help you every step of the way. Whether you qualify or not will depend on many different things, including the type of debt you have and whether it's classed as secured or unsecured, the amount of debt you have, the individual creditors linked to your debt, your current earnings, the amount of money you currently have saved and your affordability. For more in-depth information on whether you qualify for an IVA, check out our handy guide here.
One of the main things that people tend to worry about when they have a debt burden is how this will affect their credit score. Consolidating your debt can lead to a negative credit report, depending on the consolidation option you choose, however having debt in itself will affect your credit score negatively, so consolidation may actually be the better option in the long run. Consolidation through a loan will usually have less of an impact on your credit report. Whilst consolidation through an IVA will affect your credit score, your credit score would still be affected regardless, particularly if you have overwhelming debt and a debt settlement is not reached - although the level your credit score may be affected will be different depending on the amount of debt you have, the creditors involved and whether you have any existing CCJs, defaults or missed payments registered.
Consolidation will hurt your credit score, but the good news is that it's only temporary, and by paying your debts back under a debt consolidation company, you will be actively working towards raising your credit score, on your journey to a debt-free life. An IVA will affect your credit rating, as your details have to be kept on the public Individual Insolvency Register, and this information will remain on there for the duration of your IVA. However, this information will be deleted from the register 3 months after your IVA has finished. Your IVA will also be shown on your credit report if requested, but again, this is something that will be removed after 6 years (from the start of your IVA), and paying off your IVA and the rest of your debts will naturally increase your credit score anyway.
If you have a low credit score before taking out a debt consolidation loan or an IVA, you may find it hard to get a good rate or get approved at all, however there are things you can do to raise your credit score slightly - for example, registering to vote if you haven't already done so. If you feel that an IVA may be suitable for you, contact NDH Financial and we'll run through the process with you and see if we can help you apply.
It's important to be aware of the disadvantages of an IVA as well as the benefits, so you can make the right decision for yourself.
Only debts with unsecured creditors can be included - this means that if you have a large amount of secured debt, you may want to consider another option, as you need to be able to pay off all your debt, as well as the amount contained within your IVA.
Your IVA can be terminated if you fail to adhere to the terms - as an IVA is legally binding, it can be terminated by your creditors if you fail to make your monthly payments. If it is terminated, then your creditors are free to add on any interest or charges accrued during the period that you were in the IVA.
IVAs have fees - to take out an IVA, there will be fees that you need to pay to the licensed insolvency practitioner you use to apply for the IVA with, so you need to make sure you can pay these off too. More information can be found on our fees page.
Credit Rating - by entering into an IVA, your credit rating may be affected.
The costs associated with an IVA will differ depending on the provider that you use. With NDH Financial, there are no upfront fees, and we do not charge for the initial assessment or your initial consultation with ourselves. You will only be asked to start paying fees once your IVA has been approved, and these will be taken from the payments you make into the IVA.
Our fees are referred to as a Nominee's fee and a Supervisor's fee, and they are included in the money you pay back over the term of the IVA. Our fees are only taken from your monthly payments or the asset realisations paid into your arrangement. More information about the costs associated with an IVA are broken down on our fees page.